Valley Driving and Socialising
The prospect of driving for four and a half hours in a non air-conditioned car in the steamy tropics doesn't sound particularly appealing. But for me I was looking forward to it as a small escape from university normality.
Madang beckoned and I was all prepared to do the trip by myself, and this is the way that it would have stayed except for the fact that my work colleagues decided at the last minute to have other ideas. Tony, Joy's husband, was roped in at the last to give me some company. I did not mind, Tony is a great guy and we get along well, but unfortunately like my boss, not particularly partial to my taste in music. Again like previous trips with my iPod I had to play music for someone else's preference. Credence Clearwater Revival, ABBA, Bob Marley not to mention Smokey that was on a tape, was the flavour. When I tried to sneak on a few Chemical Brothers tracks he complained that it hurt his ears.
The drive there was fairly non-eventful. The road seems to be in particularly good shape, with not many pot holes to test and slow your driving. I was a little bit worried about the state of the road over the mountains for the final 70km approach into Madang, as Martin had told me that it was very wet with numerous landslips the previous weekend. His words were a false harbinger though and the gravely passes were mainly smooth sailing, with the slips now dry and clear. I actually had a lot of fun as I slipped and sliced the red Hilux around the corners like a snowboarder sluicing down a powder slope.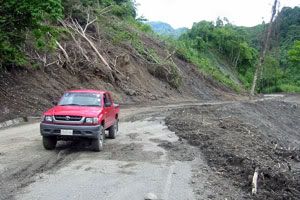 Previous landslips, now navigable
We arrived in town around three o'clock and I went immediately to our study centre where my work was and dropped off some equipment and other materials that I had been given to bring. From there Tony met up with wantoks who knew of his arrival and joined them. I wouldn't see him again as planned until Saturday morning when we would journey back.
I had a shower in my guesthouse room and discovered a fairly good case of drivers arm, knee and neck. I had only bothered to wear a T-shirt for the trip though should have really covered up more. I made some phone calls to mates I knew in town and arranged to meet up with them later.
A bachelor dinner was made in the guesthouse kitchen, consisting of two-minute noodles and a tin of curry chicken and then I headed over to see ex-VSO volunteer and Dutch bloke Fedor with a six-pack in one hand. A happy but small beer and Drambuie chat fest ensued between myself Fedor and another ex-VSO vol Sam. I left early to ensure that the guesthouse didn't lock me out of my room because of their 10 o'clock curfew policy.
Setting up the network at the school took virtually all day. It was hampered by frequent black-outs from load shedding which PNG-power were doing. I was glad to see that it wasn't only Lae that suffered from these. The study centre coordinator and me had to do a town run to buy a few small things that were needed to complete the set-up of the network. And it was in town that I had my first brush with a couple of acquaintances - using the term loosely.
I had met Tulie upon my last visit to Madang on holidays. He had kindly, though almost pesteringly, showed us around Kranket island. At the time I though he was a tad annoying as he would not leave us alone so that we could just wander and have a picnic. In the end we had to share our lunch not only with him but one of his wantoks who also tagged along.
Well Tulie recognised me as I went into the bank, and when I came out he stopped me. At first I had to have my memory jogged as to who the hell he was, but then I remembered. Tulie of course wanted me to do something for him, he was trying to fax off an application form for a position in Madang, to the company's head-office in Lae. I originally thought that he wanted me to give him the money so that he could fax it from the post-office, but his idea turned out that I could take his application and hand it in when I got back. I had a look at the position advert and found out it was for the same company that he had previously worked for. I assured him that I would send it into the company, which I will do. Jobs are in scarce supply here and Tulie is a pretty genuine guy, it would be good if he gets the job and it looks like he is a pretty much a shoe-in anyway.
I had sent an e-mail earlier in the week to the newish AVI volunteer in Madang, Amanda. She had come up at the start of December and was working at the Divine Word University, not unsurprisingly a catholic organisation. She had rang me while I was still in Lae and we had organised to meet after work on Friday without any specific plans.
I was scratching my head for something to do and then I thought of the last time in Madang with mum when we had stayed at Jais Aben dive resort. While there on a Friday afternoon I had bumped into a couple of volunteers ironically from DWU, who told me they go there every Friday to have a swim and a beer. What a good idea I thought at the time, so I re-dredged that memory and suggested it to Amanda via a phone call. Luckily she thought it was a good one as well and I picked her up. The swim and beer obviously went down very well after a typically hot and sweaty day. Amanda turned out to be great company and a laugh also.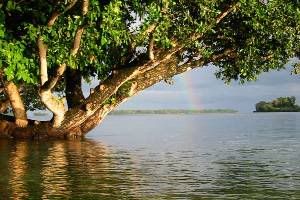 A rainbow made a brief appearance at Jais Aben
Afterwards we headed into town and went to Fedor's place. I was invited to a boys night of poker. Somehow Amanda was also invited along to this, which she was quite chuffed about. She had been lamenting the fact that the frequent girls nights were usually cooking and making crafts and wanted to be in on the boys nights - can't say I blame her. Making crafts?
The poker was good fun. The bets were high. Twenty toea in fact. I lost all of the change I originally entered, which turned out to be a miserly two kinas worth. It was all just a laugh though with Fedor winning all his money back. Which wasn't such a big deal as he had bank rolled just about everyone anyway. Afterwards I dropped Amanda off and confirmed that the 10 o'clock curfew at the guesthouse can in fact be broken if you are white guy in a car.
Losing all my change turned out to be quite a pain in the morning. You see I had to make a phone call, but my mobile phone service was non-existent. Either they had disconnected my number or the whole system was down. It meant though that I need to get thirty toea so that I could make a pay phone call to arrange to meet up with one more volunteer for breakfast before I headed home. My old mate from Goroka, Monica.
She was in town working at the local branch for her organisation, the Institute for Medical Research. To get the change to make the call I had to wander across a hundred metres or so to the Best Buy supermarket, the only thing open on a Saturday morning.
On the walk I was stopped by another "acquaintance". Some guy who I didn't recognise and still have no idea who he was, but he knew all about me and hit me up for some money so that he could catch a bus back to his village. It is a reality that if you are a white person, you stick out like a sore thumb. See me once wherever and I will recognised next time.
I managed to get by him and get some change for the phone call. But on the way back he stopped me again, so this time to get rid of so I could make the call to Monica I gave him 5 Kina, a lot less than the 20 he wanted.
Trying to ring Monica turned out to be an effort in itself. In 3 attempts over 10 minutes all I got was an engaged tone. I eventually said blow it and was going to head off to her friends house where she staying, without the promised prior phone call - I figured if the phones engaged she would be there anyway. But as I am heading out the guest-house phone rings. The haus meri who answers calls me over and asks my name. I tell her. She then goes and tells my name to the person on the end of the line. She then calls me over to talk to the caller.
"Hello".
"Jeremy, it is George here". Boss? That doesn't sound like him. He continues, "You know, George from 4 Mile, Lae". George from 4 Mile Lae, who the hell is that, I think?
"Ummm, hello George, are you sure you wanted me. I don't think we have met".
"Ohh you remember me, I am the teacher out at 4 Mile".
"Ummm no sorry I don't think we have met".
"Are you sure?".
"Yeah, I don't remember you at all".
"Ohh OK I must have the wrong person".
"Alright, bye". We hang up. What the hell? A more bizarre phone call I don't think I have had.
I meet Monica and we catch up on how each of us have been over toast and coffee - even though I didn't like coffee before I came here I don't reject it like I used to, my taste is changing in this climate.
After I head back and meet Tony at the 10 o'clock agreed time then it was back on the road with a full load of Tony's fish and coconuts from the village he stayed at. On the road we stopped at
a roadside market
, to fill up with more produce. May as well make the most of it, and we did.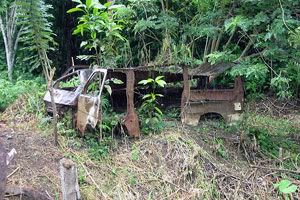 What happens if you park your PMV for too long
I do ramble don't I. For the people wondering if I do any work, I wrote this yesterday, just posting it while at work.