Wilhelm: The Sequel - Part Three
This part of the journey was when the tiredness started to kick in. I was sick of walking but there was nothing else to do. Being positive it was all downhill. Being negative, it was all downhill for 4 hours, then another section back to Keglsugl for 2 hours.
Luckily there was no rush, so we took it fairly easy. Along the way we passed some hikers headed up, one from the group of six. When we said we had reached the top two hours ago, I don't think she believed us.
Thomas led the way as usual. At the whacking spot he collected his cuscus from the bush. We got to have a close look in the daylight and discovered that it was an adolescent female; "
em I meri, I gat pocket stap
". With it swinging limply we continued on down.
After a couple of stops and meeting a German and Belgium couple - we had seen them a couple of times before at the lakes and Keglsugl - they were on their way down after getting as far as Sergeant Donnan's place, we went and visited the wreckage of an American plane the crashed into the side of the mountain. It seems the yanks forgot to check their charts properly and didn't fly high enough in the clouds. See it is not only in the movies that this happens.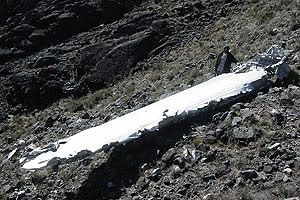 Just a wing left from the wreckage
Most of the wreckage fell into the top lake, but a major chunk - a wing - is still high up on the side of the mountain. If anyone ever walks up Wilhelm following my tale here, make sure you get your guide to show you the wing, it can't be seen from the main track.
My knees were holding steadily as I trudged behind Thomas, who proceeded to plunk the fur from the cuscus, it was on for lunch. I asked him whether he was going to roast or boil it. He replied asking how I wanted it done. How would I know, I replied. "
Mi bai putim long pot
" was the answer.
With a trail of cuscus fur we made it back to the hut at 10:30. I was completely stuffed and a sleep was on. When I woke an hour later the cuscus was ready. Doc and me were given the nice cuts of the forelegs. Still having all the skin left on was a tad off putting so I asked whether we remove that or eat it as well. It was cool to remove. So the verdict of what a cuscus tastes like, well it tastes like ... it tastes like ... lamb.
Backpack repacked we headed off down the track to Martin's place. The phrase that summed up this walk was "
mi less long wokabaut nau
" (I can't be bothered walking). We made it though of course, just before it started to rain heavily. Our good luck with the weather was spot on.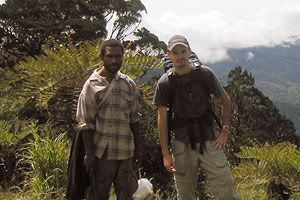 Thomas and me, midway between the lakes and Keglsugl
Zombie like we stayed around the fire in Martin's men's house and storied for the whole afternoon. Once darkness came we made an attempt at finishing off whatever food we had left, which wasn't very appetising when it is the same you had eaten for the last three days. It wasn't too late before the hay was hit, ready for one more early rise.
The rise was at 5:30, in preparation to get down to the trade store in time to catch the PMV that would be leaving from there. Walking down in a foggy dawn we got down at 6:30, only to find that the blue Land Cruiser had a few mechanical problems with its front wheel. This wasn't going anywhere so we kept on going down the road, winding round and down the hills.
At a small market, we stopped and waited. Apparently a PMV would show eventually. And it did an hour later. In the mean time we chatted munching over a locally grown and roasted nut for breakfast. I was told the name but recalling it now is beyond me.
No inside seat for the PMV down, this was just a single cab Mitsubishi ute. Martin, Doc and me jumped on the back with a couple of locals and headed off. I tried sitting in the back corner which proved harder and was more uncomfortable than it looked as I was thrown around over the rough track.
At a stop to collect passengers, I decided to do my trick from travels around Europe and sit on my backpack. A very sensible option it turned out in the end as it gave my arse the necessary padding and recalled more comfortable trips travelling in train luggage cars when all the seats were full.
The passengers we picked up really loaded the back down with billums galore of market vegetables and cash crops. The tray was now full and the passengers sat on top of these bags. The amount of people in the back was now a cosy size and any more would have made it a squish. And a squish is what it became as more and more passengers jumped on the back at various spots along the road.
It physically became impossible to fit more people in the back. I decided to tally as we went along and counted 20 people including myself but not a baby. Chock-a-block was an apt term. I had seen these type of utes numerously on the roads of PNG and now I was part of one of these villages in a ute.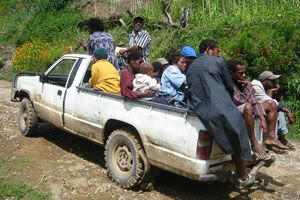 My corner is there somewhere
To get some space at one point I decided to sit on the edge of the tray. Not a great idea, and my arse had a few bruises for days. The local guys seemed to be able to manage it alright. Must be like a horse and the first time you try you get a sore arse, then every time after it is fine.
We made it to Kundiawa after three hours of this rough ride. At one point there was a queue of cars and trucks trying to get through a muddy uphill section. The open back truck at the front of it was a good advertisement to why new tyres should be bought. Its bald back tyres spun and the truck slid and swerved while being pulled up the hill by a gang of guys. The women on the tray seemed to be having fun as the thing threw itself around. We passed them without a hitch.
A bus to Lae was found. We jumped on and said goodbye to our mate Martin. He was headed in the opposite direction to go back to teach at his school. I was not particularly looking forward to having to sit on this bus for the next 7-8 hours, but I did. Doc was luckily dropped off at Goroka after two hours and I continued on.
The bus hammered the downhill corners and a few times got in trouble from the passengers; "
isi isi driva
". I can see why accidents from these buses feature in the news quite often. This guy was a maniac. He threw it through the corners and around the potholes like a turbo charged shopping trolley.
It was after dark when we did get down to Lae safely. Usually if the buses get you there in the daylight they will just dump you in town and you have to change onto another bus to get home. At this time of day they take you where you want to go, most probably because they know there is no public transport running after dark in Lae. This was something I had worried about for the whole trip and luckily it all turned out OK in the end.
After the huge weekend I was understandably very tired and glad to be back. Walking from the Uni gate to home there was one little ironic twist. Martin had told me around the fire in Keglsugl about his brother who works at the Uni Library. Me and another guy got off the bus at the Uni gate and surprise surprise it was Martin's brother John. He had got on after seeing his family in Goroka.
Back in my home at 7:30, it was night of an easy meal and early bed. It was very good to be back. My adventuring had now been satisfied. My folly now extinguished - until next time.