Sweet Tooth, Moi?
Returning to matters of less importance ...
I admit that I have a bit of a sweet tooth, I do love ice cream, and now in hindsight I am kinda thinking that I may have gone a touch overboard yesterday afternoon.
Robin was telling me about how he buys a big carton of ice cream and a hundred ice cream cones and then his wife sells it down near their house to passer-by's. I asked how big this carton was and how much. He replies telling me 38 Kina for 16 litres in at Eriku. Hmmm that is not a bad deal I think and ponder about buying a carton for myself to stick in my freezer, that was the end of my thoughts regarding it then.
Later after work John starts to give me a lift home. Driving out of the car park we see Robin heading off to the bus stop for his ice cream procurement trip into Eriku, John asks me if I want to go into Eriku as well. Why not I say. So we pick up Robin and all head off.
Skip forward an hour and I am back in my house with a 16 litre tub of ice cream in my freezer. It all happened so fast. I was in the shop with Robin looking in the deep freezer, then all of a sudden money lept out of my wallet and a box was under my arm.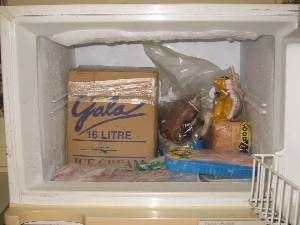 Yes that is a 16 litre box of ice cream in my freezer
I am not sure how long 16 litres of ice cream will actually last for a single guy, but I am suspecting a couple of months at least. After scooping out a little too much for dessert last night, I will have to remember that I don't need to eat it all in one go. Of course I did the old Aussie trick of sprinkling Milo on top. Love it.
Ohh if you are keen for IC, you know where to come.