Out Of The Cupboard
I am finally coming out
the cupboard
.
It is being traded in for a new improved, updated, latest and greatest model. Complete with large window, lots of light, big benches, two network ports and partition walls so I can converse with my colleagues. All it needs is just to be finished off.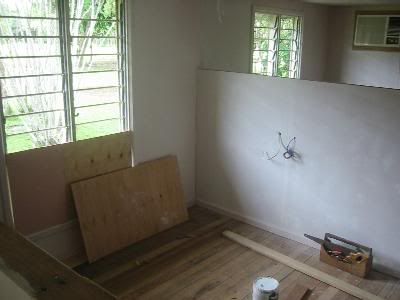 So big I need a fisheye lens to fit it all in the same photo
Yes our renovations are finally getting somewhere. Seems like it has taken forever. Actually it has taken forever! I remember seeing the plans 12 months ago for this. And work started 5 months ago back in September.
I am doing my little bit to hurry it up by crawling around underneath the extension running the network cable, sticking it conduit, drilling holes in the floor etc. Something at least to get me out of looking at monitors, writing proposals and trying to make old PCs work.
We officially should get the IT Services dept to do this for us, but I have used them before to network up ports and they are completely useless. It is one of those bang your head against a wall, bureaucratic situations. The story goes like this.
Firstly I have to write a memo signed by my Head of Department, stating that we want a quotation for getting some work done at our office and explicitly stating what work that involves. Then we send that to ITS. We wait while they fiddle with their thumbs and finally come and do the measurements etc and make up a quotation. Then they send that to us. We approve it and then raise a general expenditure (GE) form for the costs. We wait about a week to 10 days while the Bursary is processing the GE. Once we get the cheque, we send it to ITS and then they go and purchase the equipment required. Eventually they come back with the all the gear and do the work. In total it can take up to a month to get a simple thing done.
Anyway when my boss said why don't I do it and circumvent the Muppets at ITS, I jumped at the chance. It didn't really cross my mind at first, but it is something that I have done before and can easily do - most probably a lot better. At least also now I know it is going to be done properly, with flush wall plates for the network ports and all the cables hidden by running up in the wall cavities. If they had done it they would have just tacked the cable onto the outside of the walls.
Another bonus of me doing all this is that avoid the goose who heads up the networking side of things over at ITS. They didn't know that we were doing it all ourselves and circumventing them, but they do now. He spied me this morning running the CAT V cable underneath the building and gave me a filthy look, while I had a big grin as I looked back.