Done & Dusted '05
Well my Tropfest night is now over. Saturday night saw it all happen in front of a
huge
crowd of an indeterminate number - somewhere between 30 and 100,000.
As expected all things went off like a bang and much enjoyment was had by all - at least I think so, or at least everyone told me so, so they are either good liars or nice people.
People started to rock up around 7, pre-dinner drinks occured and then we started the flicks at 8. Intermission of 45 minutes half way through and then it was back to watch the rest. Finally at the end we watched All and Nothing, Wendy's film, which brought a huge round of applause.
After the films we got into party mode for a while as the crowd gradually dwindled. Unfortunately I did not take too many photos all night. I was too busy organising, chatting, hosting, eating, setting up and running around with a video camera to pull out my digital still.
But I did get a few photos shot off.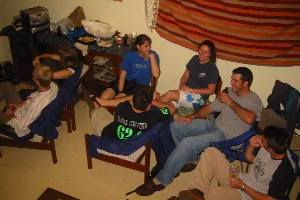 Part of the crowd during intermission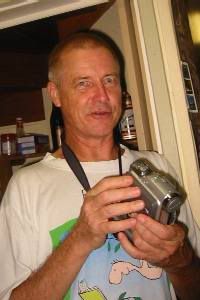 Not me with the video camera
Mini Pavlovas were consumed
And so that is it for Tropfest by me. The baton will have to be passed onto someone else next year. It will be good to see if a tradition can start.
p.s. If you don't hear from me for a few days, don't be alarmed (just alert), I won't have fallen off the edge of world, just maybe into a volcano.