"Suitable only for masochists and Israeli Paratroopers"
... I want to include at the end of that line, "... and stupid volunteers".
There was planning by me to go on the Black Cat Track over the long weekend coming. From all accounts "Track" may be a misnomer, but there is a route that runs from the coast at Salamaua to old mining town of Wau, both of which are in my province of Morobe.
Various keen adventurous types have done it, and I wanted to include myself in that group. I had found a few willing participants but they have mainly now dropped out due to not enough time available, busy doing other things or not interested anymore. So considering that I am not mad enough that I will do it by myself I have decided to postpone.
I did find one willing candidate, but I only found him today, it was mate and former work colleague, Knox. He was the one you may remember that came up Mt Wilhelm with me
the first time
and rode/pushed/carried a bike from Lae to Port Moresby. I should have asked him a while ago if he wanted to go but of course I left it to the last minute and had forgotten about him beforehand. It is all a tad too late now to get organised.
So being able to write up stories about how I hacked my way through jungle, avoided hoards of alien looking leeches and stepped around old world war 2 bombs will have to wait. In the meantime I can test myself out on the Kokoda first and then get keen by reading other adventurous nutters stories. For example:
"This track is not for the faint hearted, nor for the inexperienced bush walker. For those of you who have done the Kokoda Trail it makes that trek seem like a stroll in the park. ..."
Pam Christie (PNG Trekking Adventures)
"... Leech and snake - infested jungle, moss - covered rocks and fallen tree stumps, precarious cliff crossings, and potentially - dangerous river crossings make the Black Cat arguably one of the toughest tracks in PNG and the world. ..."
Malum Nalu (PNG Journalist)
Or looking at some of
their pictures
.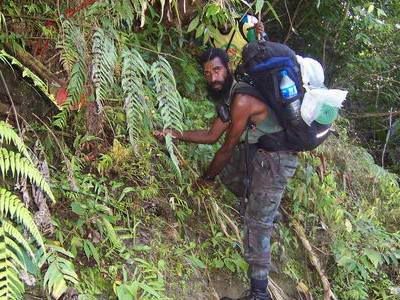 Spot the Trukai fun-run shirt - they turn up everywhere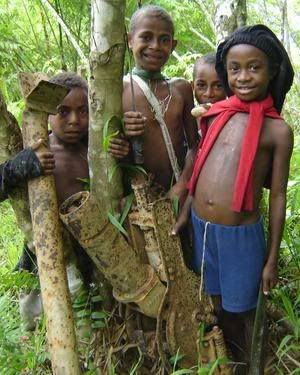 Look mum we are playing with a mortar
Funnily enough I met Pam Christie the last time I
went up Mt Wilhelm
. That time I wasn't that impressed, mainly because of the twenty thousand women porters her group had and the calling out of the altitude every 10 steps from her GPS/compass/altimeter thing. But kudos to her now that I see she has hiked the Black Cat.
And as to this long weekend I do have a backup plan which I will now enact. It is a lot less adventurous, but at least it is somewhere I haven't been before. Will keep mum for the time being about where though.