It Can Be Tough Being A Volunteer
Oh yes, volunteer life can be hard. Yesterday was another prime example.
After the drama of the
earthquake
during the night, I got picked up and taken down to the yacht club. It had been organised through friends for me to spend the day on a big company boat/yacht/ship thing (don't ask me what the correct term is, it had a galley, an engine room and two bedrooms - what does that make it?).
The one with the keys came to my
Tropfest party
. I didn't really know him before that, he was just a friend of a friend. But I was glad to get an invite to come along and spend the day on the water. Certainly something different from sitting at home reading a book (currently Bill Bryson's
Short history of nearly everything
- a good read if you are interested in science).
The day was perfect for cruising. Calm, still, peaceful waters. Sun warmly shining above - heatedly shining later. No hint of wind or distant storm. Just great. We boarded at 9 and off we headed to about the only decent place to head to close by - Salamaua.
We chugged along at a cruising speed of a few knots, taking our time, sitting out the back and gossiping. Plenty to gossip about to including the earthquake and a major warehouse fire that morning that had nearly spread to one of my mates place of employment (she went up the roof with a hose).
We got to Salamaua and anchored in the harbour. The board shorts came on, and we had a pre-lunch cool off. The roof of the boat seemed like a good spot to dive in from. And it was.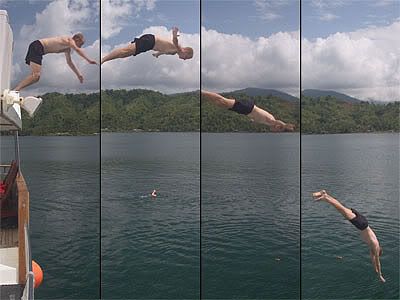 Johnny Weissmuller reincarnated
Bbq and beers for lunch, more social chatting followed, a superb trifle for dessert and then a cool off again later. Pulled anchor around 3 and cruised on back to the marina, sipping champagne. It really was all quite tough.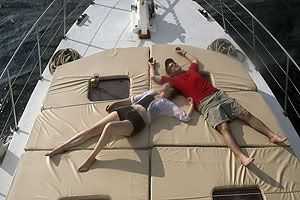 Travel brochure cover shot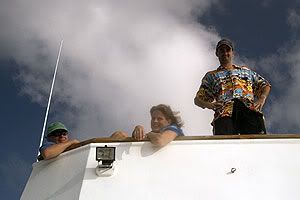 I could use a wanky line from Titanic here - but I won't
Never fear all you types that think I am going soft and am not doing it hardcore enough. Well I did get a little sunburnt and it sort of hurts today ... and I think the Kokoda in a few weeks should be none too soft.